Firefox Goodies
If you're not using Firefox, you should be! Get it now.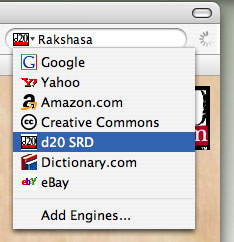 The d20 SRD Firefox Search Plugin in action
Install it now!
d20 SRD Firefox Search Plugin
Add The Hypertext d20 SRDTM to your Firefox search menu.
It's easy to do, just click this link: Install d20 SRD Firefox Search Plugin
d20 SRD Search Bookmarklet
With this bookmarklet you can instantly search The Hypertext d20 SRDTM from any site.
To use it, just…
Drag this hyperlink to your bookmark bar: d20 SRD search

Highlight a word on any Web site and click your new bookmark.

- OR -

Without highlighting a word, click your new bookmark and type in your search term.
Add cascading menus to your Firefox bookmark bar that enable you to access many d20srd.org pages with a single click and have super-fast searching of the SRD indexes.
Note: There are two versions available. The "mainIndex.html" bookmark file gives you one-click access to all second-tier SRD index pages. The "fullIndex.htm" is much larger and provides links directly to SRD content.
How to install
Download this Zip Archive.
Un-zip it to create a "d20srd.org bookmarks" folder.
Launch Firefox.
Select the Bookmarks > Organize Bookmarks… menu item.
Select the File > Import… menu item.
Select the "From File" radio button. Press the "Next" button. An open/save dialog box will open.
Select the "mainIndex.html" or "fullIndex.html" bookmark file in the "d20srd.org bookmarks" folder. Press the "Open" button. A bookmark folder named "d20srd.org" will appear in your Bookmarks Manager window.
Select the "d20srd.org" bookmarks folder. Press the "Move…" button in the toolbar.
Select the "Bookmarks Toolbar Folder" bookmark folder. Press the "OK" button.
Firefox Bookmark Tip
You can activate any Firefox bookmark via your keyboard:
Go to the Bookmarks menu and choose Manage Bookmarks…
Select a bookmark and click the Properties button
Enter something easy to type in the Keywords field such as "srd"
To activate the bookmark from your keyboard just type Ctl-L (Cmd-L on Mac) type the keyword you assigned and hit enter.