LRC:Dark Tongue
From Drinking and Dragons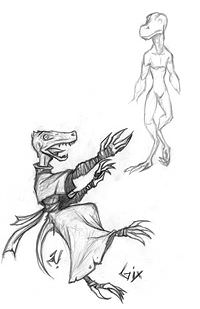 An initially friendly, for a kobold, who led the party through the Dark Wood to meet with the Woodsmen so the party could track Tio Meadmaker.
Spooked by Abendago speaking in his head, accused Simon of doing it and has promised the party that they best not cross the Dark Dogs.
Challenged Abendago to a fight for honor when the party came into the Dark Wood. Beat down Abendago and is now indifferent to the party.