RPM:Face/Bukir Sokolov
From Drinking and Dragons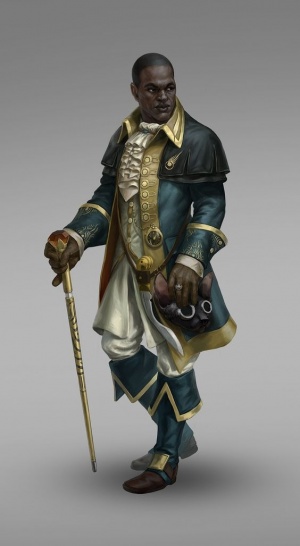 Discovered by Alexis in the basement of the Ivory Elephant along with Magalie during the Swamp Sillage in the Senate.
Is the Ambassador from Condrol
Feigned ignorance of how to load a pistol
Has diplomatic immunity
Appreciated being rescued by the party
At the Lussier Estate Dinner Party, gave Ildefons a moderately sized cheque to help his political race.
Asked Mandrot if he wanted a chance to get back into the good graces of Condrol. Mandrot declined.
Attempted to escape the city with Magalie but was captured.

Insists that Magalie was kidnapping him

Interrogated by the party

Forced to take "not truth serim" and confessed a lot of information
Forced to sign this confession

Is working with the Arkstone government to provide false information to Condrol.