RPM:Face/Lae'ela'e
From Drinking and Dragons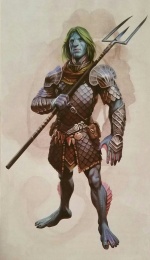 This amphibious person was one of a crew of four who came through a Sillage. He is the only survivor.
Has the aspects: Lost Sea Human, Fish Out of Water, Mourning the Loss of His Home, and Water Magician.
Is able to communicate with Ildefons by using the limited overlap of the language Untari.
Knows some of the Zodiac.
Used water magic to give additional spirit to the Walleri to fight back
While in Leaning Bear Hollow, expressed to OneTusk that he felt as though his path and the path of the party are going in different directions.
Left with Rosalie from Redbrook to go to Lisway.