RPM:Face/Odilon Paradis
From Drinking and Dragons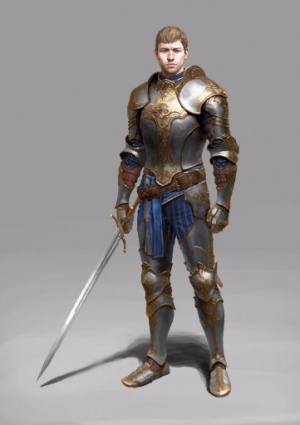 Aspects: Hero of High Horn Pass, Comes from Wealth, Issues with Money, Betrothed to Alexis
He is the Hero of High Horn Pass, where he led a group of soldiers into battle against a small output of Sorcier over the Condrol border.
Son of Isabeau Paradis, the senator
Bested in a duel by Ildefons. Has a small facial scar from it.
In prison
Attended Rosalie's retirement party. Is out of prison but under watch.
Mandrot spooked him at the retirement party by pointing out Ildefons.
Trapped in the Ivory Elephant during the Sillage

Was found in another senator's office, drinking
Avoiding the party for a while but was discovered by Ildefons and returned to Senator Paradis.

Attended the Lussier Estate Dinner Party

Drunkenly declared that he was running for the same office as Ildefons, then fell out of a balcony into a rose bush, taking Boner down with him.

Reinstated as a full member of the Royal Pride to take advantage of his reputation in the High Horn Pass.
Negotiated with the Stag Lady (by threatening to kill Hernaut) to get her to switched sides to Lisway.

Was shot by Ehsan "accidentally"

Staged "granting independence" to High Horn Pass through use of top-secret RPM illusions to backup the farce
Died defending the city from Zusturad the Bullfire.