Wednesday Knight Games:Hillfolk/Amelia
From Drinking and Dragons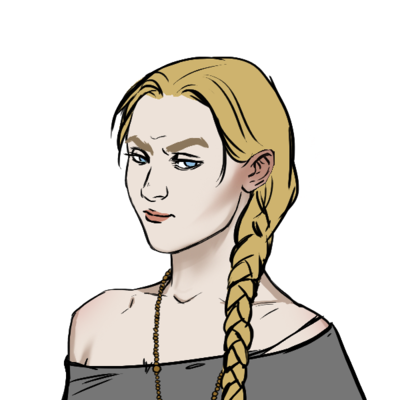 I am: Vasha Lefthand
Desire: Acceptance
Role: Healer
My story is of a traveler seeking inner peace.
Dramatic Poles
Visionary OR Madman
What I Can Do
(Strong)

KNOWING - Cosmopolitan

(Strong)

MAKING - Brewing

(Mid)

ENDURING

(Mid)

FIGHTING

(Mid)

TALKING

(Weak)

MOVING

(Weak)

SNEAKING
The People in my Life
I want the Chieftain (Southern Star) to recognize me as a member of the tribe. They can't do this because I don't follow the tribe's religion.
I want Running Eagle to stop pursuing his beloved. He isn't interested (and wouldn't be, even if he was single) because I remind him of his dead mother.

Links Back to Me
(From Gore) I have Blessed Trouble's goats, given to Gore as dowry for his daughter.
(From Running Eagle) He wants to learn how to make alcohol/get the recipe, but I'm worried it will lead to his death (either from overdose, or making poison).
(From Blessed Trouble) They want to know where she came from. Vasha won't tell them, because the memories are painful, and the knowledge is dangerous.
Things We've Learned
She's been here a few months (I'd say around 6-8, but this was not set in stone)
She's asexual, this (and her knowledge/skills) has caused trouble in villages she's tried to stay in before, in some cases leading to them persecuting her as a witch.
She's lived in 5 villages/tribes before this one.
She does worship on a moon calendar but not the tribe's pantheon; it's still unclear who/what she worships but she is respectful at least of the others' views.
Her tribe was from the far north, and was extremely warlike, which is why she left.
Her tribe had very strict rules surrounding outsiders' behavior, she was afraid of causing offense so she has not been around the village much.
Next time scenes: - Ask BT (/others?) where the manzanita apple trees nearby are, and "deal with them" with Gore