GPCFBRPGN:1 E1S1 The Milkrun
From Drinking and Dragons
← Prev: GPCFBRPGN:0_Worldbuilding   |   Next: GPCFBRPGN:2_E1S2_Life_is_a_Carnival →
Starring:

Blink,

Brooks,

Foster,

Gideon
Guest Starring: Mysterious Benefactor
Challenge: [Encounter 1] Orc Archer, Orc Warrior ×2, Goblin Scum ×4; [Encounter 2] Bugbear Assassin
Location: Natum, Durell
Date Played: 2018 November 07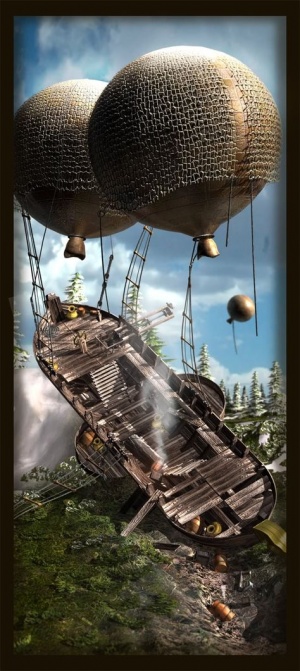 GM Play notes

GM: The players are hired to get a small box in the possession of an orc military airship escort.
Player montage to determine the path of the escort and find a way onboard.
Players stop the advancement of the ship.
Players make their way onto the orc airship
Search for the lockbox
Ambushed by the bugbear assassin
Brooks "accidentally" blows up the airship
The package is delivered with the players never knowing what is inside or who they delivered it to
Player Notes

Foster: We did a great job. Mostly. This session, Eric gave out re-rolls for good roleplaying, and hasn't done it since. Why not, Eric? Did we have too many crits? Hmmm...