RPM:19 Sailing Aboard the Thaththy Thaththafrathth
From Drinking and Dragons
Sorcier Village
🏹 Ehsan: Our detour to this Sorcier village concluded, we head back to Leaning Bear Hollow to finish our business in this small area. It appears Leaning Bear has run off out of town, likely fearing what would happen to him due to his dealing with the sorcier in this region. Ernestine informs her wife of the death of her father and with that decide it is time to head back to Arkstone.
🐘 One-Tusk: It's a mess, this town. But now we've come in and cleaned it up, at least some. Leaning Bear is on the run, but the town doesn't need him. Wildbloods have the start of a grand society here.
Redbrook
🏹 Ehsan: Our time in Redbrook is necessarily brief. It was not as difficult to find someone willing to sail us towards home as I would have thought, it only having taken a day. The captain did have one stipulation for our voyage; the lizard has a shipment of desks he needs to offload and worries he will not get a good price from the buyers he has lined up. To combat this myself and Ildefons are going to act as rival buyers to ideally drive up the price.
The other interested party is a group of older, female librarians from the nation of Condrol. Ildefons puts on his fanciest outfit and spouts some nonsense about the quality of their craftsmanship and something about the heaviness of the desk having the ability to sufficiently crush someone (a wild tale about one of those Red Wolf Brigadiers I believe). I wasn't paying much attention since my only task was to act as bodyguard but it seemed to have worked and the sale went quite well.
One Tusk, meanwhile, decided to take a bit of time off for himself. Not surprising considering this is probably one of the few places in the world where one like him could blend in and get lost for a while.
🐘 One-Tusk: Arkstone is a grand nation, but Redbrook is a wonderful escape. There are chairs! Chairs for everyone. Lisway is still very tame in that regard. Each keeps to themselves, as it were.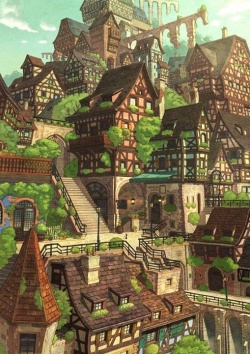 Getting into Kirkush
🏹 Ehsan: We were stuck at the docks for three days...THREE DAYS. Absolutely ludicrous! When we get through this bureaucratic horse shit and they realize they kept a Princess of the Royal Family held here for so long people will be put in their proper place. The docks managers I do not blame for their cautions what with port being so heavily controlled, but the government, really?! My lineage and seals should rightly have been enough to get us through this whole mess with at least some amount of ease...but three days...?? Ludicrous.
🐘 One-Tusk: For all the fuckery and shit in this world, Kirkush's xenophobia and port procedures are the shittiest fucks of them all.

DM: Entering Mahakala legally was a complicated issue that took several days to resolve. This was run as a Conflict.
Opponents

Docking Administrators
Government Officials
Kirkush's Culture

Aspects that came up in play (and may impact future sessions)

So Many Ehsans
She Might be the Real Thing
Winning Us Over
Insular and Proud

It wasn't an aspect but

So many dead pigeons
Advancement
+1 skill: rapport from +1 to +2
Stunt adjust: "Patience of the Tortoise" -> "+2 to Will to Overcome when patience can be used."
+1 skill: empathy from +1 to +2
Stunt adjustment: "Exotic Mount" removed in favor of new stunt "Family Ties" - Gives a +2 to Overcome when dealing with her family.