Disposable:Holidays in the Black
From Drinking and Dragons
Theme
The crew of the Constitution returns from the edge of the black to find work just in time for the old Earth holidays.
Set in the Firefly 'verse.
Details
Date: Sun, 12 Dec at 10am
Pancake breakfast at 9am for those who would like to show up early.
Has to be determined. Please let Randy know which of the following days work for you. Bold indicates the best day for a person and italics represents maybe.
Sat, 11 Dec: Randy, Eric, Eric M, Pat, Frank, Remy, Doug, Lon
Sun, 12 Dec: Randy, Eric, Eric M, Pat, Frank, Remy, Doug, Lon, Allen
Sat, 18 Dec: Randy, Eric M, Pat, Frank, Remy, Andy
Sun, 19 Dec: Randy, Eric, Eric M, Pat, Frank, Dave Allen
Location
Randy's apartment in Lawrenceville. Map: http://tinyurl.com/3yktmpd
Rules
The game will be run using the True20 gaming system, which is similar to d20. Rules will be taught at the start of the gameday, so experience with isn't required.
Characters
Players who attended Edge of the Sky will reprise their roles as listed below. New players will be randomly assigned a PC. (The previous gameday also had randomly assigned PCs.)
Skill Monkey - could be a mechanic, criminal, acrobat, etc. - played by Eric
Ancient Weapons Expert - could be historian, collector, fencer, SCA reenactor, etc. - played by Bert, captain role
Grappler - could be a wrestler, boxer, war vet, etc. - played by Lon, prostitute role
Caster - could be a psychic, wizened old man, insane little sister of the doctor... - played by Remy, passenger criminal role
Sniper - played by Pat, computer expert role
Medic/Healer - could be a doctor, shaman, chiropractor, faith healer, etc. - Played by Doug, pilot role
Hacker - could be IT guy, boy genius, normal guy with tech implants, etc. - not played
Swearing
Swearing in foreign languages is encouraged.
Notes
All enemies had one point of Conviction. This gave them an extra round of battling, which made combats run longer.
Using markers on figurines was immensely helpful as a reminder of conditions (stunned, shaken, etc.)
Ship was renamed the Nadir after nearly killing a group of Alliance feds.
Dr Laos experimented on and released a man after removing his eye.
The ship's dolphin was named Daryl.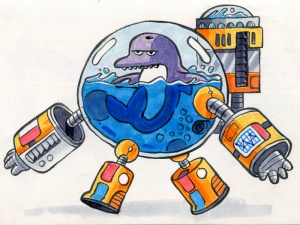 Upcoming

Have an idea? Suggest one!
Completed

Epitaph • Cryptid Hunter Sept 2021
Over the Edge August 2021
Waycross (Monster of the Week) August 2021
Good Neighbors • Learn to Play Fate August 2021
Downfall—Cyberpunk Art Therapy July 2021
Tachyon Squadron • Learn to Play Fate June 2021
Business Wizards June 2021
Touring Rock Band (Fiasco) June 2021
Space Spies • Book of Hanz game May 2021
Hillfolk May 2021
Save the Date Mar 2021
Junior Braves Survival Guide to the Apocalypse Dec 2020 - Feb 2021
Weird West Jan-Apr 2021
Everyone is Santa Dec 2020
Masks, Dec 2020
Band of Blades, May 2020 - Oct 2020
Musketeers of the Sinking City, Swords of the Serpentine. Dec 2020.
The Rogue Queen, Ashen Stars. Oct 2020
Return to Camp Death, Fiasco. Oct 2020
Secrets of Cats, Black Silver Fate, May 2020
Weekend at Strahd's (Jtown) 5e. Apr 2020
Hotelspace, a WIP RPG by Remy. Apr 2020
A Haunting at Foxcroft Manor 5e. Mar-Apr 2020
Hearts of Wulin: Rod of Destiny Apr 2020
For the Queen (NPC Codex) For the Queen. Apr 2020
Weekend at Strahd's (4K) 5e. Feb 2020
Voyage of the Golden Dragon 3.5e Eberron Jan-Feb 2020
Cyber Punks & Cadillacs Jan 2020
Chessington World of Adventures Theme Park Fate. Jan 2020
Downfall (Santa's Workshop) Dec 2019
Pleasant View Communities Fate. Dec 2019
Gun Nov 2019
Everyone is John Oct 2019
The Assembly Monster of the Week. Sept 2019
Blades in the Dark Sept 2019
Nest Fate. June - Aug 2019
Verostick D&D June - July 2019
The God Queen and the Barbarians June 2019
City of Mist for Geek Unleashed June 2019
She-Ra FAE. Apr 2019
Curse of Strahd 5e. Nov 2018 - Mar 2019
Grumpy Bear Monster of the Week. Feb 2019
Dragon Slayerz Fiasco. 05 Sept 2018
Amnesia Town City of Mist. 01 Sept 2018
Jess' D&D 5e One Shot Aug 2018
Dream Away the Time (Monster of the Week) Monster of the Week. Feb 2018
Star Trek FAE. Dec 2017
City of Mist, 15 July 2017
D.O.P.E.S. M.O.V.I.E., 15 May 2016
D.O.P.E.S John Starr From Boy to Starfighter April-May 2016
Old Time Wushu Blues Fate. Jan 2015-Feb 2015
D.O.P.E.S. Solving History Fate. Nov 2015-Dec 2015
D.O.P.E.S. Shotguns and Strings Fate. Dresden Files Accelerated play test. Oct-Nov 2015
Dragon Age Sept-Oct 2015
Shadow of the Century Alpha Playtest, Fate. June-July 2015
Firefly the crew of the Charon. Spring 2015
Dungeon World (Xilk), Dungeon World. Winter 2014-2015
Lunch Hour Heroes, Fate. June 2014 (Attempted campaign)
Missing Ghostbusters, Fate Accelerated. May 2014
Freight with Peril, Fate Accelerated. Nov 2013
Thornkeep, Pathfinder with house rules. April 2013
Emerald City Knights (MM3) (Location:Washington, PA) Apr 2012
Racial Profiling (Location:Indy) Nov-Feb 2011
Angel RPG (Cinematic Unisystem) (Location: Indy) Oct-Dec 2011
Words of Power Exploring Pathfinder's Words of Power (Location: Indy) Sept 2011
Lighthearted Lighthearted Games. May 2011
Unisystem demos: Played Dec 2010
Holidays in the Black, True20 space adventure continues. Played Dec 2010
Edge of the Sky, True20 space adventure played Oct 2010
Disposable:Gestalt Jan 2010
Jesus and His Superfriends Save Xmas Dec 2009
Scifi-Horror-Shadowrun, a shadowrun-esque gameday. May 2009
Arctic Exploration, xmas themed and using the roll everything variant. Dec 2008
The Hunting of the Crimson Lord Noncasters vs casters. Nov 2008
Buy the Numbers, using alternate chargen rules. June 2008
Duncan's Revenge, no special rules. Feb 2008
Coven Coven of all specialist wizards. Feb 2007