Disposable:Weekend at Strahd's (4K)
From Drinking and Dragons
Event Details
Mon, 25 Feb 2020 at Four Kitchens retreat in Austin
Players: Randy (GM), Allan, James, Chris M., Mike G.
Rules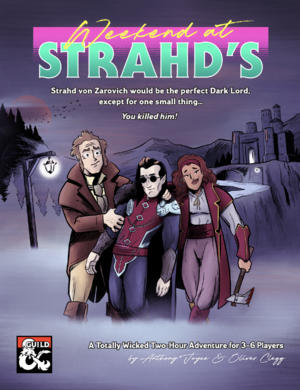 We played D&D 5e, Weekend at Strahd's.
Players
Kah Pow, half-elf Rogue/Bard

Mike G.
Other than the 80s references, I think my favorite moments were the dash into the cathedral and trying to get information out of piddlwink

Zengil (Zen) Denkar, Dirty Brass Dragonborn Sorcerer

James
Mine was the dance contest, Obv.

Siggin Browntank dwarf ranger.

Allan
Smashalot flailing straud around making him exercise using the stake in his chest and making it pass exercise
Smash-A-Lot, barbarian beserker
Chris M.
Upcoming

Have an idea? Suggest one!
Completed

Epitaph • Cryptid Hunter Sept 2021
Over the Edge August 2021
Waycross (Monster of the Week) August 2021
Good Neighbors • Learn to Play Fate August 2021
Downfall—Cyberpunk Art Therapy July 2021
Tachyon Squadron • Learn to Play Fate June 2021
Business Wizards June 2021
Touring Rock Band (Fiasco) June 2021
Space Spies • Book of Hanz game May 2021
Hillfolk May 2021
Save the Date Mar 2021
Junior Braves Survival Guide to the Apocalypse Dec 2020 - Feb 2021
Weird West Jan-Apr 2021
Everyone is Santa Dec 2020
Masks, Dec 2020
Band of Blades, May 2020 - Oct 2020
Musketeers of the Sinking City, Swords of the Serpentine. Dec 2020.
The Rogue Queen, Ashen Stars. Oct 2020
Return to Camp Death, Fiasco. Oct 2020
Secrets of Cats, Black Silver Fate, May 2020
Weekend at Strahd's (Jtown) 5e. Apr 2020
Hotelspace, a WIP RPG by Remy. Apr 2020
A Haunting at Foxcroft Manor 5e. Mar-Apr 2020
Hearts of Wulin: Rod of Destiny Apr 2020
For the Queen (NPC Codex) For the Queen. Apr 2020
Weekend at Strahd's (4K) 5e. Feb 2020
Voyage of the Golden Dragon 3.5e Eberron Jan-Feb 2020
Cyber Punks & Cadillacs Jan 2020
Chessington World of Adventures Theme Park Fate. Jan 2020
Downfall (Santa's Workshop) Dec 2019
Pleasant View Communities Fate. Dec 2019
Gun Nov 2019
Everyone is John Oct 2019
The Assembly Monster of the Week. Sept 2019
Blades in the Dark Sept 2019
Nest Fate. June - Aug 2019
Verostick D&D June - July 2019
The God Queen and the Barbarians June 2019
City of Mist for Geek Unleashed June 2019
She-Ra FAE. Apr 2019
Curse of Strahd 5e. Nov 2018 - Mar 2019
Grumpy Bear Monster of the Week. Feb 2019
Dragon Slayerz Fiasco. 05 Sept 2018
Amnesia Town City of Mist. 01 Sept 2018
Jess' D&D 5e One Shot Aug 2018
Dream Away the Time (Monster of the Week) Monster of the Week. Feb 2018
Star Trek FAE. Dec 2017
City of Mist, 15 July 2017
D.O.P.E.S. M.O.V.I.E., 15 May 2016
D.O.P.E.S John Starr From Boy to Starfighter April-May 2016
Old Time Wushu Blues Fate. Jan 2015-Feb 2015
D.O.P.E.S. Solving History Fate. Nov 2015-Dec 2015
D.O.P.E.S. Shotguns and Strings Fate. Dresden Files Accelerated play test. Oct-Nov 2015
Dragon Age Sept-Oct 2015
Shadow of the Century Alpha Playtest, Fate. June-July 2015
Firefly the crew of the Charon. Spring 2015
Dungeon World (Xilk), Dungeon World. Winter 2014-2015
Lunch Hour Heroes, Fate. June 2014 (Attempted campaign)
Missing Ghostbusters, Fate Accelerated. May 2014
Freight with Peril, Fate Accelerated. Nov 2013
Thornkeep, Pathfinder with house rules. April 2013
Emerald City Knights (MM3) (Location:Washington, PA) Apr 2012
Racial Profiling (Location:Indy) Nov-Feb 2011
Angel RPG (Cinematic Unisystem) (Location: Indy) Oct-Dec 2011
Words of Power Exploring Pathfinder's Words of Power (Location: Indy) Sept 2011
Lighthearted Lighthearted Games. May 2011
Unisystem demos: Played Dec 2010
Holidays in the Black, True20 space adventure continues. Played Dec 2010
Edge of the Sky, True20 space adventure played Oct 2010
Disposable:Gestalt Jan 2010
Jesus and His Superfriends Save Xmas Dec 2009
Scifi-Horror-Shadowrun, a shadowrun-esque gameday. May 2009
Arctic Exploration, xmas themed and using the roll everything variant. Dec 2008
The Hunting of the Crimson Lord Noncasters vs casters. Nov 2008
Buy the Numbers, using alternate chargen rules. June 2008
Duncan's Revenge, no special rules. Feb 2008
Coven Coven of all specialist wizards. Feb 2007